Join us on Thursday, June 23rd, 2022 for an ESS with Dr. Kyle Eberlein. The Tarrant County Dentist, and triathlon competitor, will be speaking about how to incorporate your faith into the workplace.
Join us at this FREE event open to all young professionals in their 20s and 30s. Please RSVP, if you can, to help us plan.
WHY ATTEND:
- Free drinks and appetizers
- Meet young Catholics committed to professional growth
- Be part of this challenging and inspiring community
EVENT SCHEDULE:
7:00 p.m. - Networking with free drinks, and appetizers
7:45 p.m. - Keynote Presentation followed by Q&A
8:45 p.m. - Stick around afterward to meet our guest speaker & continue networking!
Dress for this event is business professional.
We hope to see you there!
RSVP at ycpfortworth.org/events.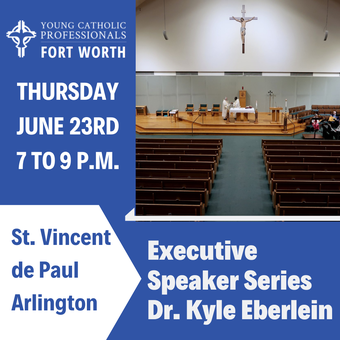 5819 W Pleasant Ridge Road, Arlington Texas 76106